Places of Interest


Lake Sibaya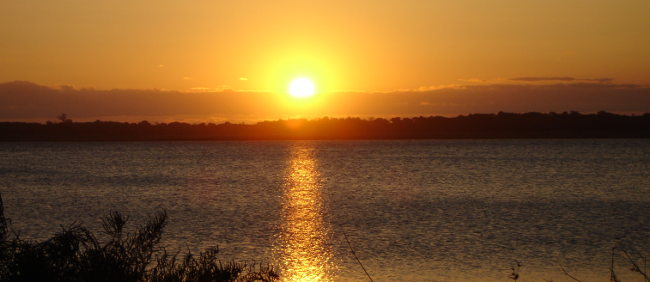 A visit to the shores of Lake Sibaya is a must, quite simply, it is awesome, unspoilt Africa at its best!

Lake Sibaya has 100 kilometres of shoreline and is South Africa's largest fresh water lake with a surface area of about 70 square kilometres and wildlife abounds. Some 18 species of fish are to be found in the lake and Hippo are plentiful.

Birdlife is abundant and this area is a haven for the bird enthusiast with 279 species being recorded in the area. You may just see some of the following: Avocent, Bitterns, Black-Winged Stilt, Crakes, Darters, Egrets, Fish Eagle, Flamingos, Gallinules, Greenshank, Herons, Hornbills, Jacana, Kingfishers (Pied, Giant, Malachite), Palm-nut Vulture, Pel's Fishing Owl (rare), Pygmy Goose, Red Breasted Cormorants, Rufous-bellied Heron, Spoonbills, White Breasted Cormorants, White-Fronted Sand Plover, Woodward's Batis.

Zebra, Nyala, Reedbuck and Impala are to be found in the lake surrounds. Blue Duiker, Red Duiker and the rare Suni inhabit the coastal dunes which separate the lake from the Indian Ocean. Other mammals to be found are African marsh rat, Four-toed elephant shrew, Red squirrel, Samango monkey, Vlei rat, Water mongoose, White-tailed mongoose.

Amongst the Amphibians and Reptiles are 22 recorded species of frog, the more common being Grass frogs, Reed frogs and Toads. Larger reptiles include the African Python, Forest Cobra and Nile Crocodile.

A trip Lake Sibaya is possible by 4x4 vehicle, about a 40 minute journey from House 45. It is recommended you liaise with the Sodwana Bay Lodge reception to establish the best way to visit the shores of the lake.

GPS coordinates for Lake Sibaya:

27 20'52.74"S 32 40'31.44"E

-27.347984, 32.6754 Click to open in Google Maps


Muzi Pans

The Muzi Swamps stretch up the centre of the Elephant Coast from the Mkuze Game Reserve to the Mozambique border.

A half-hour drive, 4x4 not necessary as the road is tarred, from House 45 gets you to Muzi Pans. An abundance of water bird species are to be found here and it is yet again another bird watcher's haven. During the summer months as many as 100 different species of birds may be seen. Local bird guides are available as well as trips on canoes with trained guides.

Hippos and Nile Crocodiles inhabit the pans too!
Zulu Croc


Zulu Croc, a reptile park, offers a fabulous hands-on crocodile and snake experience. Professional guides interact with and discuss highly venomous species such as puff adders, cobras and boomslangs.

The Nile crocodile in varying sizes, from hatchlings to the serious heavyweights can be seen.

A restaurant offering delicious meals, bar, curio shop and clean restroom facilities are available.

Zulu Croc is about a 45-minute drive from Sodwana Bay Lodge House 45.

Game Reserves

Hluhluwe-Imfolozi National Park
See Ezemvelo KZN Wildlife

In the heart of Zululand lies the Hluhluwe-Imfolozi Game Reserve, the oldest game park in Africa established in 1895. And yes, the Big 5 are there.

Allow about an hour and a half to get to Hluhluwe-Imfolozi National Park from Sodwana Bay Lodge House 45.